Travelling can be a really stressful time as a parent of young toddlers. Trying to keep an energetic and exuberant kid still and engaged in a confined space is daunting. Having two kids of my own and travelling across to my native UK every year my husband and I have grown accustom to the difficulties. It was this in fact that made me come up with my own solutions and SO Handmade came to be. I decided to make my son a playmat which we could bring with us and he could also use to store some of his favorite toy cars. It was so useful and  practical that I started making more to sell and the roots of my business took shape.
I have come up with a list of 5 toddler toys that we found extra useful to bring along whether you are travelling my car, plane or train they don't take up too much space and also don't make annoying noises!
1) Water Wow books from Melissa and Doug are great. No need for any messy paints or colors- just add water and the pages come to life.
2) Sticker books are great too. This animals one kept my daughter entertained for hours
3) A Car Playmat or a train playmat from my own shop has been a game changer for my family and many of my happy customers
4) A magnetic doodle pad is excellent for drawing without a mess and the best thing is the pen is attached so won't get dropped!
5) This Tegu Six Piece Block Set is perfect for building and creating in a small space. It can be turned into all sorts of different ways to form animals, building and spaces to let kids use their imagination and creativity. 
More playmats and travel ideas can also be found in my shop So Handmade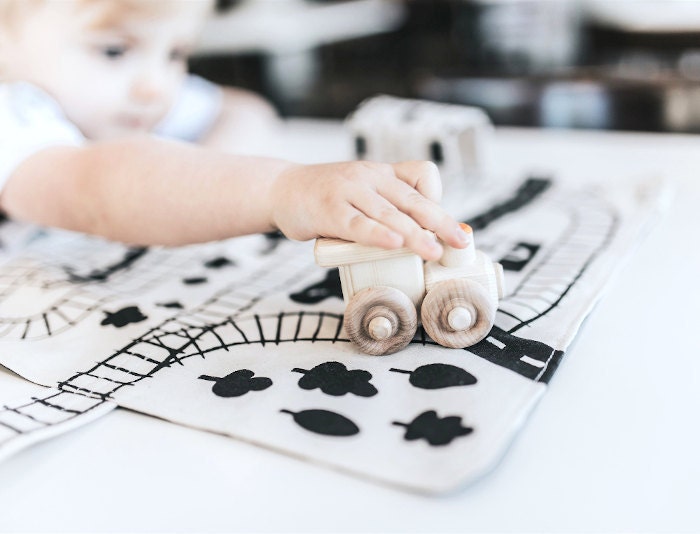 Good Luck and I hope this gives you some ideas and ways to travel with toddlers that can ease some of the stress and give you the chance to drink your coffee at leas