Being a Brit living in the US we travel quite a lot over to England to visit my family. We have two kids aged 6 & 10 but have been travelling on planes with them both since they were only a few months old. I remember the stress of packing for the journey wondering just what would be useful and hold their attention long enough for me to have a meal or even just a drink on the flight. 
I have compiled a list of a few things we have found invaluable- or wished we had packed after the fact.
Lots of snacks. Preferably healthy like small packets of nuts, meat and cheese sticks, raisins and other finger food that doesn't require cutlery and is mess-ish free. Even if you pay extra for the inflight meals the kids might be asleep or not ready to eat depending on the timezone so pack extra in case. Also remember empty reusable water bottles you can fill up once though security. 
Change of clothes for the kids and also YOU! Yes we learnt this the hard way after a particularly bumpy flight which my husband took the brunt of!
Empty plastic bags (for said dirty clothes and trash)
If your kids are old enough bring their own headphones to enable them to watch the inflight entertainment. 
Sticker books are my personal favorite for flights, easy to pack and can keep them happy for hours. My daughter loved this one from amazon.
My kids also loves these water books from Melissa and Doug. Just fill the pen with water and the paint the pages.
For toddlers who love cars my own fabric playmat is perfect to stow away in a carry on and bring out on the plane for entertainment. You can store their favorite cars in the pockets and zoom around the playmat and through the tunnel. The Car playmat is here:  https://www.sohandmade.com/shop/17620595/travel-toys-and-storage 
I also have some cool train ones, a farm one and even a magical unicorn one in my online store.  https://www.sohandmade.com/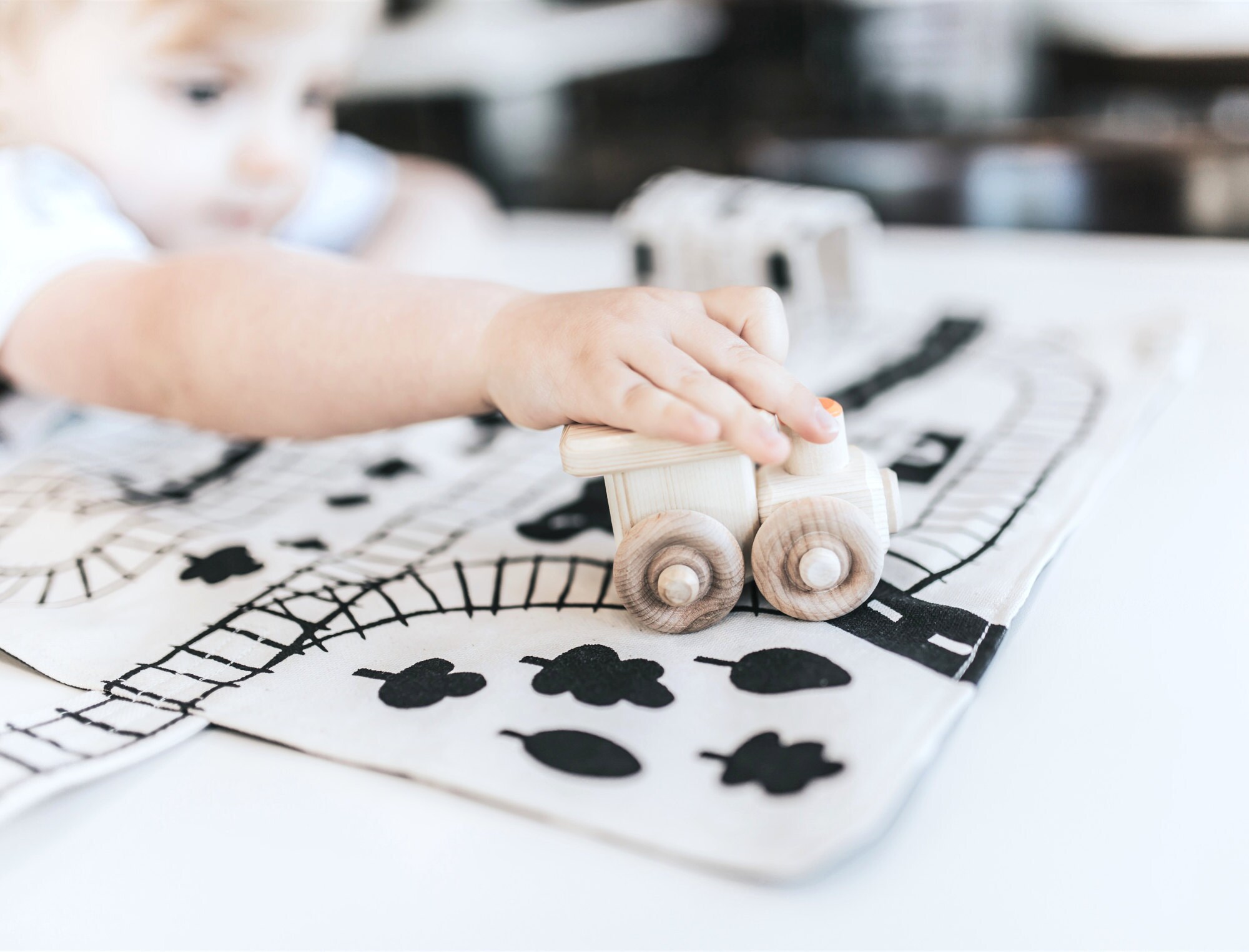 Train Playmat:  https://www.sohandmade.com/listing/584798823/train-playmat 
9. If you have a long lay over google the airport before you travel and suss out any playgrounds or other childrens areas within the airport first. We once found one by accident on one trip and it was a godsend to have somewhere to run around and not trip up other passengers.
10. It goes without saying but pack a little self care kit for yourself, wipes, toothbrush, change of top, your favorite snack. Anything that will lift your spirits and make you feel a little more human after a long flight.  Travel pillows and eye masks are a must for me. Having sleeping children draped over you can be very uncomfortable. Try and make yourself as comfy as possible for a long probably sleepless night. 
I hope thats been helpful and wishing you all the luck in the world for a smooth and stress free trip.